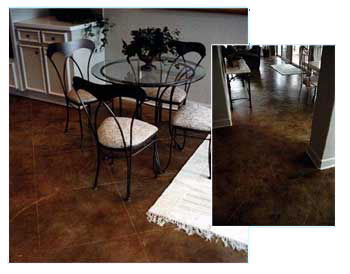 Stamped Artistry: Stained Concrete Floors of Houston, TX
Transform, Dull & Drab concrete into a Piece of Art!
Envision a concrete color technique that reveals it's own unique look. Like art work, there are no two Stained Concrete floors that are alike. A variegated, natural look is the end result. There is no uniformity in the finished result. Each has it's own characteristics & beauty, they cannot be duplicated. That's the magic of the Concrete staining process. An endless amount of results can be created. The color will not chip, crack or wear off, because the stain penetrates the concrete surface.
Concrete Acid Stain is a deeply penetrating, acid stain that is used to color old & new concrete. The Concrete stain chemically reacts with cured concrete to provide a distinctive permanent mottled color & a subtle marble look, that of a time worn patina. Stained Concrete provides a unique & custom look that cannot be duplicated.
Water-based Concrete Stain penetrates the inherent porosity of concrete & cementitious products to produce color. Color may be "built up" without the worry of spending all the alkalinity, as with acid stain. Eco-Stain saves time on the job with no rinsing, no mopping, no neutralizing, and no residue.
Decorative scored sawcuts & patterns can also enhance the appearance of the stained concrete surface.
Types of Concrete Stains
Water-Based Concrete Stains
Water-based stains have grown in popularity over the past few years because they come in a wider variety of colors than acid stains and are easier to apply & are GREEN, which means they are better for environment. SureCrete's Water-based Eco-Stain is an exciting alternative to typical reactive acid stains. Water-based Concrete stains don't rely on a chemical reaction to impart color. Rather, they are designed to deposit their pigment particles in the open pores by penetrating the concrete surface. There are no acids or harmful chemicals integrated in its design. Since no chemical reaction takes place, there is no extended waiting time for color to reach full development. Cement substitutes will not affect color, unlike reactive acid stains that are dependent upon alkalinity to create a chemical reaction. Eco-Stains in blues & greens will not spot black in the presence of moisture and are UV stable Concrete floors stained with non-reactive Concrete Stains and sealed with a concrete sealers, producing stunning results.
We recommend a Low odor Water-based Poly-urethane Sealer topped off w/a sacrificial floor finish coat for all Interior finishes.
Acid Stains
Acid concrete stains contain phosphoric acid and/or mild hydrochloric acid along with inorganic metallic salts. The acids open the pores in the concrete, and then the salts react with the chemicals in the concrete to produce desired color. Depending on the age and porosity of the concrete, the salts are absorbed in varying degrees and produce different shades of color. The finished concrete surface has a varied coloring effect that looks similar to marble or natural stone. Since the exact chemical makeup of every concrete slab is different, no two concrete stain floors ever come out exactly the same. This guarantees that each and every stained concrete floor is truly unique. After the floor is cleaned and stained, it must be neutralized and washed with an ammonia solution to the chemical reaction and clean up the acid stain residue that was produced during reaction and then sealed with a professional grade concrete sealer. We recommend a Low odor Water-based Poly-urethane Sealer topped off w/a sacrificial floor finish coat for all Interior finishes.