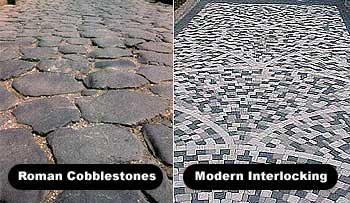 Interlocking Brick Pavers have been used in Europe for thousands of years. The earliest date back to the Roman empire, when the streets were constructed of Roman Cobblestones. Many of those same streets are still in use today. Modern man has given concrete pavers beautiful shapes & colors, made of high strength concrete, minimum 8000psi that interlock with each other.
Working as a concrete contractor in Houston's unstable soil conditions since 1981, Brick Pavers, in our opinion are " The Only Way To Pave". Pavers are immune to cracking you find poured concrete, Paving w/ brick pavers opens the possibilities for creative design. Away from the monotony of plain concrete. Concrete Pavers fascinate through it's many combinations of classic shapes, colors & designs.
Pavers are set on a sand bed over a compacted sub-base. Joints are then swept with dry sand. This process gives you individual expansion joints around each individual pavers, so you have a flexible surface, FREE OF CRACKS, unlike poured concrete…. If any underground work is needed, removing the affected area & resetting it back will bring it back to new again! The surface remains unscarred, no ugly patches that stick out like a sore thumb! You will soon realize that paving with Concrete Brick Pavers far exceeds any other paving system.