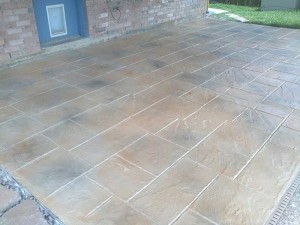 There are many advantages to having stamped concrete as the floor of your outdoor patio. These reasons—variety of design, lesser cost, durability, etc.—continue to be valid and, as fall and winter approach, the list continues to grow. In many locations, the changing weather brings moisture, leaves, and more that litter patios and decks. Fortunately, stamped concrete floors resist the elements well are easy to clean.
The weather does not have to stop you from enjoying the patio. Stamped concrete retains its attractiveness through the seasons. The options for this type of flooring consist of designs that have all the beauty of an indoor floor. Solid craftsmanship and durable materials prevent weather-related damage. You can continue to entertain on your patio throughout the year.
If dirt, leaves, and moisture start to clutter your patio, cleaning is easy. Stamped concrete patios can be swept, rinsed, and washed with cleansers, some of which are specially formulated to maintain the life of your patio. Of course, if you're concerned about rain ruining your plans, some patio coverage allows you to continue enjoying the space. If things get chilly, you can add a charming, wood burning patio heater, or any other type you prefer, without any risk of damaging your patio.
Stamped concrete is an excellent way to make sure you have use of your patio anytime you please. It will last through the seasons, can withstand the weather, and is easy to clean. You can enjoy your patio year-round; just add what you need to make it warm, dry, and comfortable.
If you want stamped concrete for your outdoor patio or space, contact Stamped Artistry. We have a wide selection of patio and flooring options for you. Enjoy the fall weather and coming Thanksgiving with your family on your lovely, cozy concrete patio.