You already know that you can create a comfortable space on your patio with décor and furniture. Did you know that you can make the patio part of that décor and furniture? With short walls of stamped and stained concrete, you could have a beautiful, inviting outdoor space with extra seating for anyone you could think to invite.
Seats Made of Retaining Walls
These seat walls are essentially retaining walls set at a height that is low enough for comfortable seating, but high enough to create an enclosure. If you place them directly onto the already-existing patio, you change very little about the space size overall, while still adding seating space. If you place them directly next to the patio, you could maximize the space.
Make the Most of the Space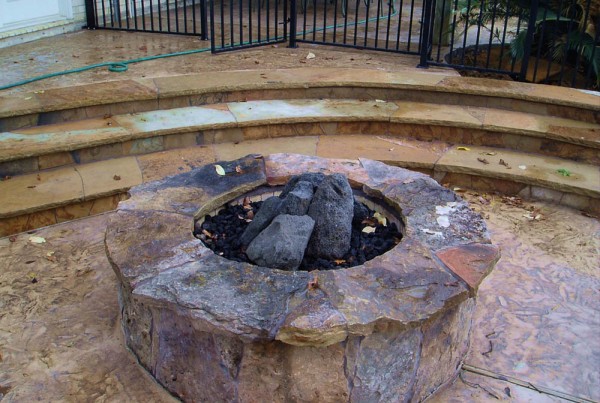 Well-designed seat walls are simple ways to create an entertainment space on your patio. They are also relative inexpensive. These short walls can be made of the same concrete style as your patio, or they can be made of a different stamp style and stain for a creative contrast. You have attractive, extra places for people to sit, or for décor, such as plants and flowers, sculptures, etc.
These walls have the potential to make your patio more visually diverse. Rather than looking out and seeing a flat landscape, you look out and see colorful variety. If you enjoy outdoor spaces in winter, or enjoy cooking outdoors, you could even set a concrete fireplace or cooker at the center so that you can converse with everyone around you as you enjoy the fire.
If you like the look, you are not limited to a single retaining wall. With one low retaining wall for seating, and another on top of that one, off set enough to create a back for that seat, you have concrete seats with backs, or double the seating area for those who don't mind sitting on the uppermost wall. You also have yet another way of creating visual variety on your patio.
Find out more about create an inviting patio with concrete seats and walls by contacting Stamped Artistry today.