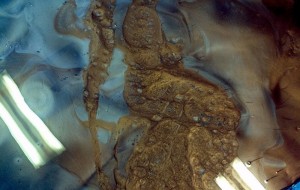 Have you ever heard of epoxy flakes? Perhaps not, but you have seen them. Epoxy flakes are the spots—flakes—of colors that you sometimes see on hard floors. They not only provide decorative coloring with a wide range of options, but they protect the floor from various wear and tear.
The Look
Also commonly known as color flakes, epoxy flakes are recognizable as spots, or other shapes of color spread about and layered over one another for a burst of color embedded into the floor material. This type of flooring allows for a lot of customization; the owner can choose from almost any color combination and flake size.
The Materials and Uses
These flakes are a combination of materials, including acrylic resin, vinyl resin, and polymers. The flakes are usually small—less than an inch in diameter. They add more than color, too. They add long-term protection from:
General wear and tear.
Chemical damage.
Moisture damage and corrosion.
Loud noises—they offer mild soundproofing.
These flakes are particularly useful for flooring that experiences a lot of foot and other types of traffic such as:
Industrial facilities and warehouses.
Garage flooring—both commercial and home.
Professional and residential workshops.
Patio and other outdoor flooring.
It is possible to install epoxy flakes on your own, but having a professional do it is always a much better choice. A flooring professional can get you the precise colors you want, mix them more exactly, and find the absolute best options for you through in-depth discussions about details of which you may not be aware.
Call us at Stamped Artistry and let us be the professionals who show you more of what epoxy flakes can do for your floors. We can help you get creative and make the most of what epoxy flakes have to offer.