Having a deck or patio off your home can allow you to create an outdoor living space. You will need to decide what materials your deck should be made of if you are adding a deck for the first time or if you are interested in remodeling and changing your existing deck space.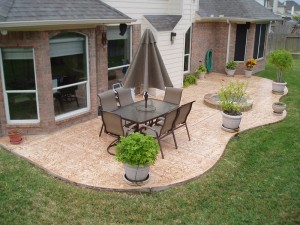 Stamped Artistry can help you to determine what type of decking material will look good in your yard. For many homeowners, stamped or stained concrete is a good choice because this material is durable, long-lasting and comes in different styles and colors. You don't have to worry about the material becoming damaged easily since concrete is designed to be outside. Stained and stamped concrete take a functional material and make it beautiful, making it the ideal deck solution.
Call Stamped Artistry today to learn more about your material options and to get started on your outdoor deck project.