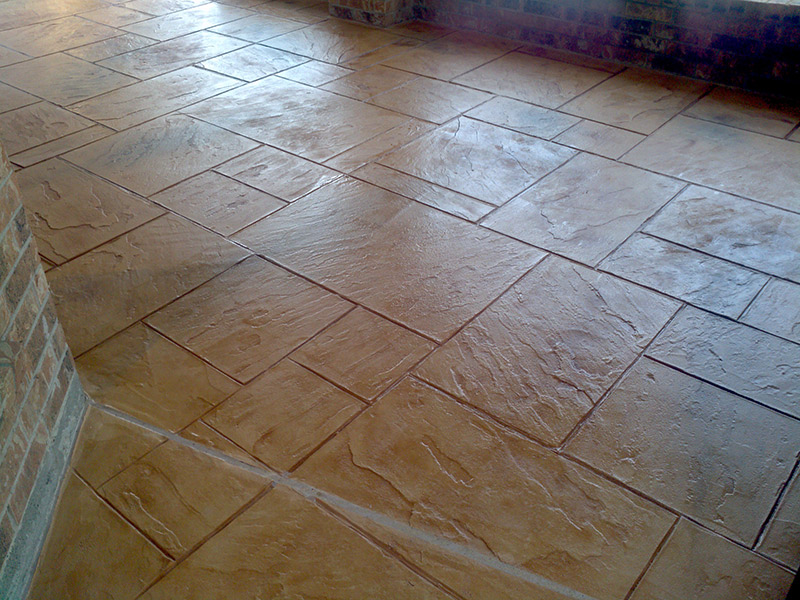 The restaurant business is a bustling one. None of the jobs available in the food business are easy; they're rough on everyone, and on the floors. Restaurant floors see more foot traffic than many businesses–from patrons in the dining areas, to staff there and in other rooms, and the kitchen staff, of course. Where food is prepared, the floors experience too many spills and utensil crashes to count. It stand to reason that the floors should be more than attractive; they should be tough. A concrete floor for your restaurant could be perfect.
The Look
Concrete is not the grey and bland material you see outside. Your restaurant can have lasting concrete floors and still have the look you want. You can have any number of color combinations and styles that won't wear down with time and extreme foot traffic like other flooring will. If your restaurant would look best with a natural stone appearance, you can have stamped concrete for that, too.
The Resilience

To keep this stained and stamped concrete floor beautiful despite all the traffic it will see, you need to maintain it, but not too much. Concrete is strong and easy to clean. You need only basic cleaning and maintenance to keep it looking its best, even after many busy lunch and dinner shifts. After years of serving you as well as you serve your customers, it will still be as beautiful as you want it to be.
All the business of a restaurant means many, many accidents. All those inevitable spills and utensil crashes, whether they happen in the dining area or the kitchen, won't damage the floor either. As long as it's maintained, cleaned, and spills are managed as soon as possible, your concrete floor can handle it.
Make your restaurant floor the best is can be. Call Stamped Artistry today.