When you think of concrete for your home, you probably think about a patio or a driveway. The reality, however, is that concrete has a huge number of different applications in home design. You can even put concrete to use to make the inside of your home more beautiful and unique than you ever dreamed.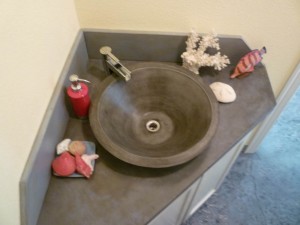 Concrete can be used in a lot of different ways indoors. You can put concrete on your floors to create a durable and modern look. You can add concrete countertops to your kitchen or bath as an alternative to granite or to marble. You can even have custom-made sinks made out of concrete. You can design your concrete products in different colors and with acid staining, no two products will ever be the same. The patterns and colors can be even more versatile than granite or man-made countertops like quartz and formica and the concrete is going to be a durable solution that will stand up to the test of time.
Call Stamped Artistry today to get your concrete project started and make your home a more beautiful space.