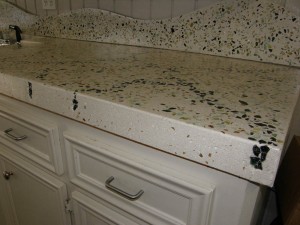 The kitchen is meant to be a comforting space. It is where people go to nourish and feed themselves, and to get creative with ingredients for their own culinary masterpieces. So, it's understandable that people become tired of cheap, laminated countertops that wear within short periods of time and are easily scratched. Among the alternate choices is concrete. Concrete countertops are not sidewalks in the kitchen. They are popular choices that have the ability to be stylized according to almost any décor. More importantly, they are durable and perfect for the busy, messy work in the kitchen. Renters have no choice, but many homeowners are discovering that concrete is the ultimate medium with which they can create the perfect countertops for their kitchens.
The demand for concrete countertops has risen recently. This is, in large part, due to design options that suit all styles. Yes, a customer can select from pre-made versions that are cast in molds and sold as-is. However, the more discerning homeowner can have their countertops designed, created, and finished to their specifications. Some prefer to have the job done in the kitchen; the mold is set directly on the cabinets and filled with concrete. Whatever the choice, the results are always one-of-a-kind.
Creating concrete kitchen countertops is like an art form.
Professionals can design their own, unique style by using select ingredients in the mix. Most work with homeowners to create the best look for a home that matches the interior. Some work with interior designers who are having a home renovated for sale.
The end result is a custom, durable countertop. Colors, sheens, metallic and other particles, cuts, and much, much more can all be customized. These countertops don't have to be in the kitchen, either. If you love them, you can put them almost anywhere you have countertops, including outdoors.
Call us at Stamped Artistry. We can give you your custom concrete countertops that match your style and your life.