If your outdoor space needs to be renovated and updated, it is time to talk to the professionals at Stamped Artistry.
With stamped and stained concrete, you can create a new and beautiful outdoor area that is more functional and attractive than you have ever dreamed of.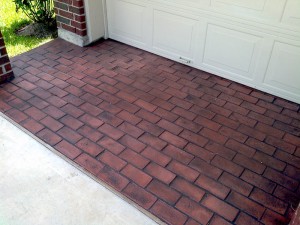 Stamped or stained concrete can be used in many different applications outside. Perhaps you simply want a new deck or a larger patio space. You can have it, with a beautiful stamped concrete design or with concrete that is stained in a color of your choosing. You may want an outdoor kitchen, an outdoor fireplace or a new swimming pool area. Stamped concrete and stained concrete can be used for your hardscaping project, the pool area or the countertops on your gourmet outdoor cooking area.
Stamped and stained concrete both come in a wide variety of different patterns, colors and looks. You can match your new concrete outdoor features with your existing back yard or come up with a totally new look.
Don't hesitate to call Stamped Artistry to get your project started.