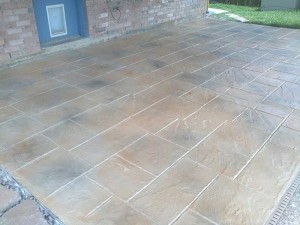 There are still plenty of warm days left in the seasons. Even as fall approaches, there will be ample opportunities to sit out on your outdoor patio with friends and food, or coffee and a good book. This means reasons to consider a patio revitalization. If your patio is concrete, a concrete overlay may be precisely what you need.
Concrete does not have to be grey and boring. There are many options for a concrete overlay that can be a patio floor makeover. You can choose simple, single colors, stamped designs, multicolored options, textured, and more. Even worn, cracked concrete can be polished, removed if necessary, strengthened, and made stunning with new concrete overlays.
The Process
First, your chosen professional will make certain that your current patio concrete and materials are sound. If your patio is badly damaged with too many cracks, or too soft, you may have to go beyond resurfacing and replace the concrete altogether.
Once the concrete base has been prepared, either by polishing or replacing, the decorative overlay can be laid. The concrete is resurfaced with a concrete mixture, made to suit your specifications, and stamped with designs, should that be your preference.
These overlays can be stamped to look like stone, and to hold specific shapes and patterns. They can be sprayed for texture and gloss, but they are generally made to be slip-free. The designs and combinations are almost limitless. Though it is concrete, it is far from what people see in their minds when they think of concrete.
We have the experience necessary to design and build the perfect patio for you. Even if you don't currently have a concrete patio, you may want one when you see how beautiful the overlays can be. Take a look at our website and some of what we offer in concrete overlays, and then contact us for more. Tell us what you want, and we can make your dream patio a reality.