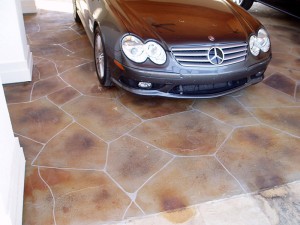 Driveways are highly functional. We don't consider them much when it comes to renovation for aesthetics. If they're cracked, we have them fixed because our tires bump every time we drive over them, and because they are unsightly that way. However, how often do you really notice a driveway because it is so very nice-looking?
A driveway like that is possible to have. Stained concrete is a way to make it happen. You can have the best-looking driveway in the neighborhood with stained, and even stamped concrete. Plus, it offers more than just great look.
It's durable. If you're worried about something that nice being out in the weather, don't be. Stained and stamped concrete is sealed and meant to last. Its surface is tough and it's even stain resistant. It is even made to resist chipping and fading.
It's not too expensive. Despite how nice it looks, stained concrete can be very affordable. It is even less costly than some more common materials.
It's better for your tires. It's not good for our tires to roll on rough surfaces all of the time. Sure, standard concrete will do, but it's boring and cracks over the years. Stained concrete is finished to a shine in any color mixture you like. It is laid smooth with good traction. You'll never have a problem with your tires on this driveway.
It's nice enough to be extra hosting space. If you don't have a patio, or you just need some extra space for entertaining, a driveway this nice is a great place to do it. Suddenly, your driveway seems far more functional, as it's nice enough to use for more than driving and parking your car.
Get the nicest driveway in your neighborhood. Call Stamped Artistry today and ask about stained and stamped concrete driveways.