Stained concrete counters can be a wonderful solution for your home. While there are many reasons why you want to consider stained concrete counters, here are three major advantages that you should consider when you decide if these kinds of counters are the right solution for you: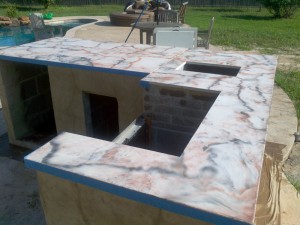 Stained concrete counters can be used indoors or out. You can use stained concrete counters for an outdoor kitchen or for an indoor bathroom or kitchen area.
Stained concrete counters can come in a huge variety of different colors. You can choose colors that will work perfectly for your decor.
Stained concrete counters are unique. Just like granite or natural stoned counters, every stained concrete counter is unique and one-of-a-kind.
These are a few of many advantages of stained concrete counters. Consider putting these in your home or outdoor space. Contact Stamped Artistry today to learn more about your counter top options.