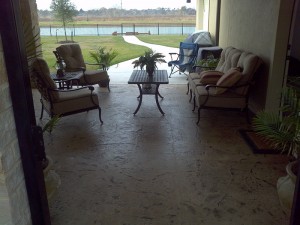 The holidays are passing, but we are still gathering for the New Year and other reasons this season. Just because the temperatures are down for many doesn't mean that the patio has to be left out in the cold. If you are having friends and family over this season, there are ways to holidays on the patio and make it people-ready, even if the weather outside seems frightful.
Stamped concrete is as nice as any indoor floor.
You can set up a table on the patio—large or small—and offer your guests dinner, drinks, and more, and not have to worry about spills, unstable tables, or anything else. Stamped concrete is nice enough for indoor floors and strong enough for the outdoors. It is easily cleaned, too. Don't feel like your guests must be inside because the patio isn't as nice. Stamped concrete, among other types of patio flooring, is just perfect.
You can have counters and more for cooking outside.
Have you ever thought that you wanted more than an outdoor grill? Perhaps you wanted counter tops, a sink, and a stove. Well, concrete countertops are excellent for a patio counter that surrounds all of those other things. You can cook and serve out on the patio with concrete countertops of almost any color and style you can imagine.
You can safely warm things up with a fire.
There are plenty of options for keeping the patio warm when it's cold. You can light a fire in a patio pit or stove, get an outdoor-safe space heater, and more. Additionally, you can make, or buy, drapes or netting that surrounds the patio area and helps keep the warmth where you want it. Candles make for lovely mood lighting and add to the more comfortable temperature.
If you want some help prepping for holidays on the patio, we can help you spruce up your patio floors and countertops. Call us now and don't wait. The year will soon be over.