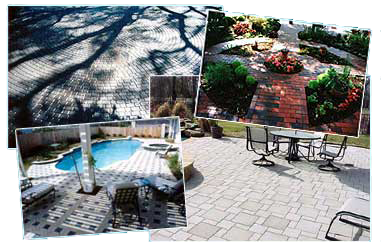 Interlocking concrete pavers add some creativity and classic appeal to any ground. They work on streets, patios, near pools, driveways, and beyond. They are resilient and attractive, all at once. As with any material, they are not without the small potential for occasional problems. Those problems have solutions, however.
Shifting Pavers
Pavers are laid on a sandy bed that is over a more compacted base. This is done to allow for expansion and contraction. Though it may seem like soil is generally stable, it changes. Temperature and moisture alter the soil regularly. Pavers are made and installed to allow for these changes, while remaining smooth and firm.
Of course, even if the pavers are laid well, the soil can expand more than is normal with moisture and freezing temperatures. Then, when the soil contracts again, the pavers may not be able to settle in the same position as before. In other instances, the soil is washed away at the edges by rain or excess water, and the pavers settle in an uneven way, or sink at the edges of the structure.
In most cases, your pavers do not need to be replaced; interlocking pavers are very resilient and should not crack. They may need to lifted, however, and the soil beneath changed. These changes will depend upon the nature of the problem. The layer over the base may need to be of a different substance, such as processed gravel. This makes for a more compact layer that is less easily shifted.
For cases in which only the edges have shifted or sunk, it may be possible to address only the edges. This can often be prevented by using a fabric beneath the base layer to filter and maintain the sides of the area. If you have the problem later, adding the fabric is a solution.
Are you having trouble with interlocking pavers? Do you want them installed? Call us at Stamped Artistry.