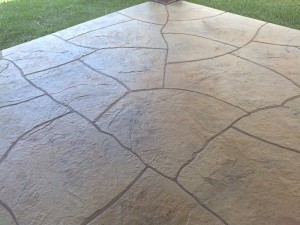 Concrete is a very durable thing. It lasts for years and, if it gets good care, it can last a lifetime. Your average sidewalk may crack over a few years, but sturdy, stylish, stained and stamped concrete at your home can remain attractive as long as you want, if you maintain it. Because, when concrete is exposed to the weather, it will be affected. Rain and water damage are real risks.
Defense is the beginning of concrete rain damage care. It prevents the damage from ever happening, or significantly reduces the likelihood. When the concrete is laid, it should be treated with protection and sealed. This is included in the installation of most stains and stamped concrete.
However, should the damage occur anyway, don't leave it to get worse. As long as you pay a little attention to the state of your concrete, any damage you may notice will probably be mild, or not go far past the surface. This is a good thing because fixing it will not be so difficult. For major issues, resurfacing might be necessary.
The type of repair will depend on the amount of damage and the type of concrete. Mild damage on a brushed finish might just need a professional scrub. This could hurt smoother, shinier concrete, however, and resurfacing entirely might be required in that case. If your concrete is stained and stamped, this might be a lengthier, more involved process that includes re-staining and applying overlays. A professional will have to perform this.
If your current drive way or patio has been for a very long time, you may want to consider getting something completely new, rather than revitalizing the old. For example, if your patio is as it was when you first moved in, water damage could be the perfect excuse to get something new that you like better.
Don't let rain damaged concrete ruin your day. Call us at Stamped Artistry. We'll protect your concrete, revitalize it, or construct new stained and stamped concrete for you.