If you are considering concrete countertops for your next home improvement project, you will find that these counter options are a great solution for both your indoor or your outdoor space.
The first thing to know about concrete countertops is that they are a very versatile counter solution. You can use stained concrete for your kitchen or for your bathroom. Bar counters, outdoor kitchens, mantels and fireplaces and hearths can all incorporate concrete countertops to create a special look.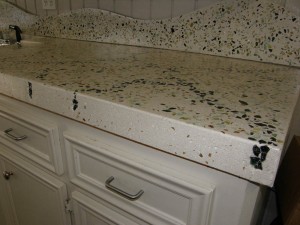 You also should be aware that concrete countertops can come in a huge variety of different colors and styles, from contemporary to modern to traditional. You can incorporate things like seashells, colored glass and other items within the counter surface and you can use different colored dyes and textures in order to create a truly special and one-of-a-kind counter.
To learn more about stamped concrete countertops and to design the perfect countertop for your space, contact Stamped Artistry today.