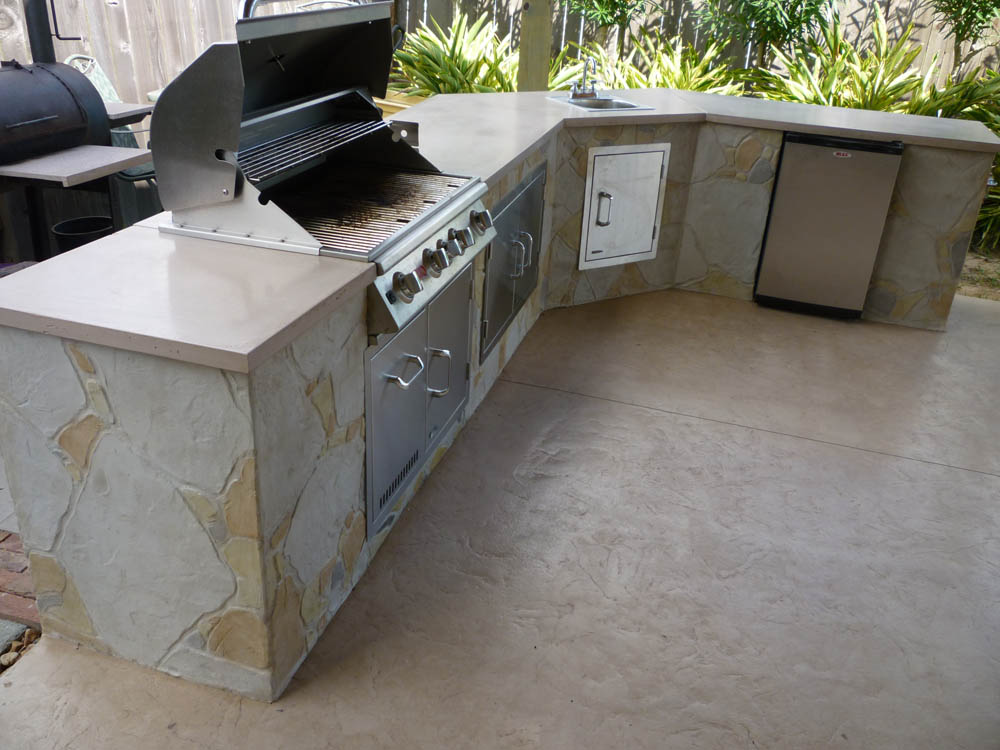 If you love to cook, you probably do so by all sorts of means, including an outdoor barbecue. If that's the case, you may sometimes wish you had a better outdoor setting in which you create your summer treats. You can have the kitchen of your dreams; actually, you can have two. Turn your patio into an almost-complete second kitchen when you feel the need for adventurous cooking.
Stamped Concrete Makes a Sturdy Setting for Kitchen Patio
Outdoor kitchens are attractive additions to homes. They help make outdoor spaces more inviting, and more like extra living spaces. You can make them as simple, or as extravagant as you want. If all you need is a nice place on which to set your grill, and on which your guests can set themselves, you can have it. Beautiful stained, stamped concrete makes the patio floor, and a concrete retaining wall makes a lovely centerpiece and place to sit.
If you want something more, you can make room for all the accessories you have in your indoor kitchen. Concrete can serve as the frame for all appliances that need to be installed, like refrigerators, sinks, and more. You can even have cabinets if you want them. Of course, stained concrete makes excellent countertops for outdoor cooking.
Stained and stamped concrete are both beautiful and functional. Concrete can be stained and stamped to suit almost anyone's style; if you want the look of natural stone without the cost, for example, concrete can offer it. Even more importantly, it's durable. You can chop, dice, cook, and do it all outside; your concrete kitchen patio will remain beautiful through the years.
Find out all that concrete can do for you. Get the outdoor kitchen patio of your dreams for this coming summer, and do it soon. Contact Stamped Artistry today.