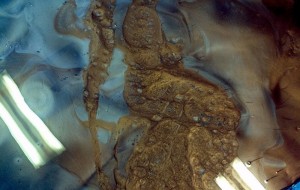 Have you considered metallic flooring? It may not be as odd as you think. In recent years, metallic color varieties have increased according to demand. Metallic flooring has become more popular lately; it's as easy to install as any other type of flooring, not too costly, almost any flooring specialist can help you, and it adds a special something to your business, or anywhere you choose to put it.
Metallic flooring had some popularity in the 90s. Thanks to more color availability, they're being offered and installed more often again. If you have been considering some changes, they may add the perfect touch of color to your home—a flair for the new year.
These floors, when installed well, are durable. They resist all sorts of wear, including abrasions, impacts, and chemicals. You don't need to wax, and after a long period has passed, you get back any shine lost by a simple refinishing. They are particularly great for sprucing up a business where there is a lot of foot traffic, such as a restaurant or bar.
Metallic floors are created with a combination of pigmented primer and then a metallic pigment base coat. Colors can vary widely; you can have a solid color primer, or a primer with metallic shine, and then yet another color, or metallic base coat. Then, a coating will have to be sprayed, and after a day the top coat is added. Finishes can be glossy or satin.
Consider adding some shine and flair to your floor for the coming year. Metallic flooring is not passé—thanks to the range of colors and styles you can create something simple, or something wild. Call or come to us at Stamped Artistry, and let us show you the possibilities for this stylish flooring system so we can get started now.