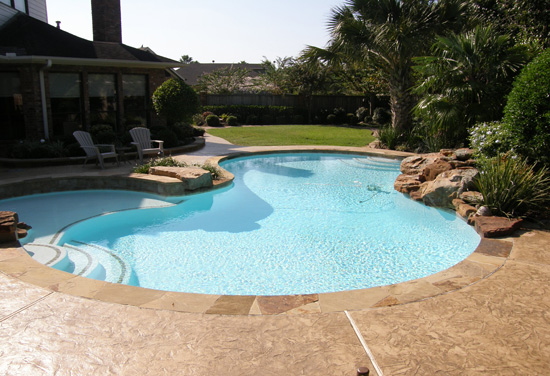 It's still cool, even cold in much of the U.S. However, the weather is slowly warming. Soon it will be spring, and then summer. It all seems to come quickly when we're busy with our lives. This means that swimming weather will soon be upon us, as will weather comfortable enough for enjoying your outdoor deck. Don't wait for that weather to be in full swing. Update your pool deck before summer has a chance to start.
Pool Deck Upgrading
If you already have a pool deck, take a look at it. How old is it? When was the last time you had it cleaned, sealed, and any other maintenance? There are a lot of choices when it comes to your pool deck. You're never stuck with what you have, even if you're worried about price.
Stamped and Stained Concrete
Stamped and stained concrete make beautiful pool decks. As a material, concrete is one of the strongest things you can buy. It will last for years with very little maintenance. And, it can have virtually any appearance you want; this is not your standard sidewalk concrete.
Rather, this concrete can be stamped and molded to look like much more expensive materials. It can look like stone, brick, and more. It can be stained with natural-looking colors, or with gorgeous colors for a more creative design.
You don't have to worry about water causing slips and falls, either. These decks are sealed to protect against the elements, including the sun, rain, and more, and have texture and anti-slippage coverage to help eliminate that risk. They're safe for you, your children, and your guests.
Get your dream pool deck for summer, and even for spring. Be ready as soon as warm weather hits. Just call Stamped Artistry.