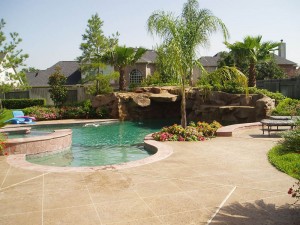 Swimming pools add touches of extra fun and beauty to homes. You and your children find hours of fun together, or you may enjoy relaxing in the water, or out of it. Yet, over time even the nicest pool could use a renovation.
You don't have to have a pool like every other in the neighborhood. There are many possibilities for its appearance. Pool renovation with stamped concrete is just one example. Colorful stamped concrete has the potential to be a beautiful addition to your pool area. In addition to being decorative, it is lasting and doesn't require a lot of maintenance.
Stamped concrete can handle the outdoor elements and time, as well as chlorinated pool water. Of course, slipping is always a concern around the pool, particularly for parents. You can easily get some traction by having nonskid elements added to mixes and sealants.
You also have many options for design, which isn't always so with other materials. Stamped concrete can come in many colors and textures. With some help, you can design patterns and shapes, choose from stains and pigments, and get creative. A contrasting pool border adds some originality to a design. You can have light colors that help prevent the area from becoming too hot in the sun, or darker shades to match your aesthetic preferences. Extend the stamped concrete by adding some steps, or a path to a nearby small seating area so that the adults can sit out near the pool and enjoy the sun while the kids play in the water.
Have you been considering updating your pool area? It's still early in the year, but summer will be here before you know it. Try pool renovation with stamped concrete. Call us at Stamped Artistry and tell us about your dream swimming pool, and let us help you make it come true.