When you put in a pool, you want to surround that pool with a beautiful deck that completes the look that you are going for. Stained concrete may be the right choice. Stamped Artistry can help you to create a beautiful design for around the pool deck so you can make your backyard into a relaxing and attractive oasis.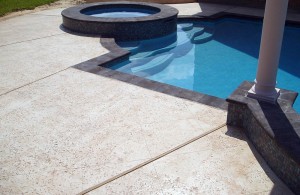 Your pool deck should coordinate nicely with the swimming pool that you have in your home. Whether you have just put in a new pool or you are remodeling an old pool and want to update it, you want to choose nice colors and an attractive material for your pool deck space. Stained concrete comes in a huge variety of different color choices so you are limited only by your creativity.
Stamped Artistry will help you to decide on the right colors and styles to make your pool deck amazing. Call today to learn more about why stained concrete is the perfect choice.