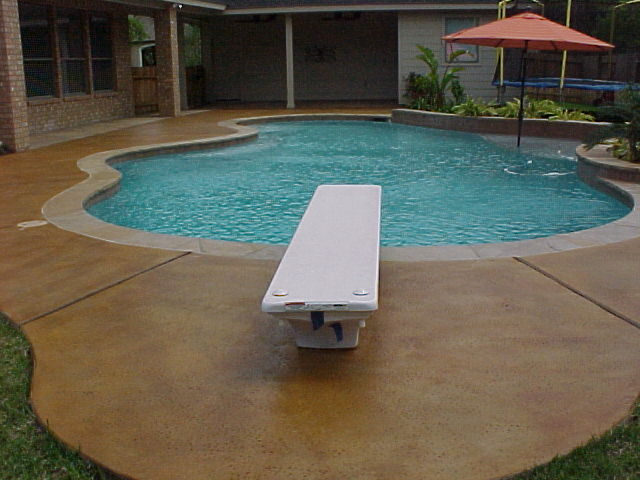 Concrete pool decks can be both beautiful and functional. To remain that way, they need help. That concrete is tough, but sitting in the sun and being subjected to other elements throughout the year will take a toll even on the toughest materials. A seal on your concrete pool deck will make the deck look better, prevent fading in the sun, and protect it from pool chemicals.
Protection for the Concrete and You
Whatever type of concrete you have around your pool—stamped, stained, textures, and more—a seal is always recommended to preserve the beauty and life of your floor or deck. That concrete sealant can give your deck improved color and a glossy look, if you want. There are many different levels of gloss and a tinted sealer can boost the color of your deck.
Stains are also risks of having concrete around the pool. Sealing the deck helps prevent this. Over the years, your concrete deck will be subject to all sorts of chemicals in the pool, as well as debris from the environment. A good sealer protects your concrete pool deck from all this. If things freeze over winter, your concrete will also be protected from ice and thawing damage.
If you're concerned about slipping risks, you needn't be worried. There are slip-resistant sealers that are perfect for use around the pool. You can have both the protection and sheen, while still keeping your children safe as they play around the pool. This type of seal can help prevent accidents, even when water is splashed onto the concrete.
When your concrete pool deck is well-sealed, you help maintain it's beauty over the years. You save yourself money on repairs, and may even need less maintenance. Of course, with slip-resistant sealers, you keep yourself safe, too.
Whether you get a new concrete pool deck, or you have one already, have it sealed to preserve it. Call Stamped Artistry today for all your concrete needs.